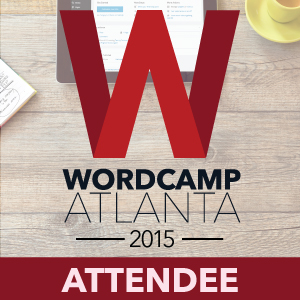 Late Sunday is now early Monday as I write this. Still, I'm wide awake, invigorated by all the things I learned this past weekend at WordCamp Atlanta.
After beginning, then neglecting, and finally abandoning a couple of personal blogs on Google's Blogger platform, I started my first WordPress.com blog in 2010. I borrowed one of those WordPress books written for dummies or idiots from the library, and set up my first business blog. It wasn't until I attended a couple of large Atlanta conferences on WordPress and joined the Atlanta WordPress Users' Group on Meetup that I really scratched the surface of WordPress. Did you know that many popular websites, like The New Yorker website, are built on WordPress? The most recent W3Techs – World Wide Web Technology Surveys show that WordPress is the most popular content management system. Southern Spines is a self-hosted WordPress site, as is the company website for Alison Law Communications. I have helped several clients build their websites using WordPress.
If you're interested in learning more about blogging or creating websites using WordPress, I hope you'll let me know in the comments. I haven't decided whether to share what I've learned about blogging and WordPress here, on my business website or on a completely new website. I try not to commingle my bookish content on Southern Spines with my marketing and PR business, but I'm rethinking things. My goal is to empower others to create and manage their own WordPress websites. If you have any questions about WordPress, WordCamp or blogging in general, I hope you'll leave them for me in the comments.